I got a bit behind in my photo editing and organization this last couple months, so I'm just posting April's collages now and it's almost time to post May's!  I really love seeing all of these photos together — a collage of favourite or memorable moments from my Nikon and all of my Instagrams.  It is fun to review the month in this way and see all the things we did or the little moments that took place.
– We celebrated Peter's 30th birthday.
– We had an Easter Egg hunt at home and out at the Zorn farm.
– Ezra left the crib moved into the bottom bunk; we found him sleeping on the floor lots in the first month.
– We had some beautiful weather and spent time playing in the backyard
– Eva and Ezra had fun playing in the window one day.  Always nice when they play well together.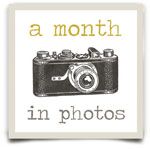 Simple as That